Holidays with yoga in Tenerife are an offer for people who miss the sun, rest and an unforgettable adventure on one of the most beautiful Canary Islands.
If you need to rebuild yourself, recharge yourself with the sun and positive energy, you like to spend time actively, discovering magical corners, you've come to the right place. With us you will experience an unforgettable journey, regenerate your body and feel special. We offer a harmonious combination of exploring the island of Tenerife with rest, fun and integration in a small group.
During the trip, we offer, among others: vinyasa yoga classes, relaxation, visiting Tenerife, i.e. exploring non-commercial places on the island, mini trekking, swimming in the ocean and natural pools, tasting local cuisine, wine tasting and other additional attractions. Detailed information can be found below.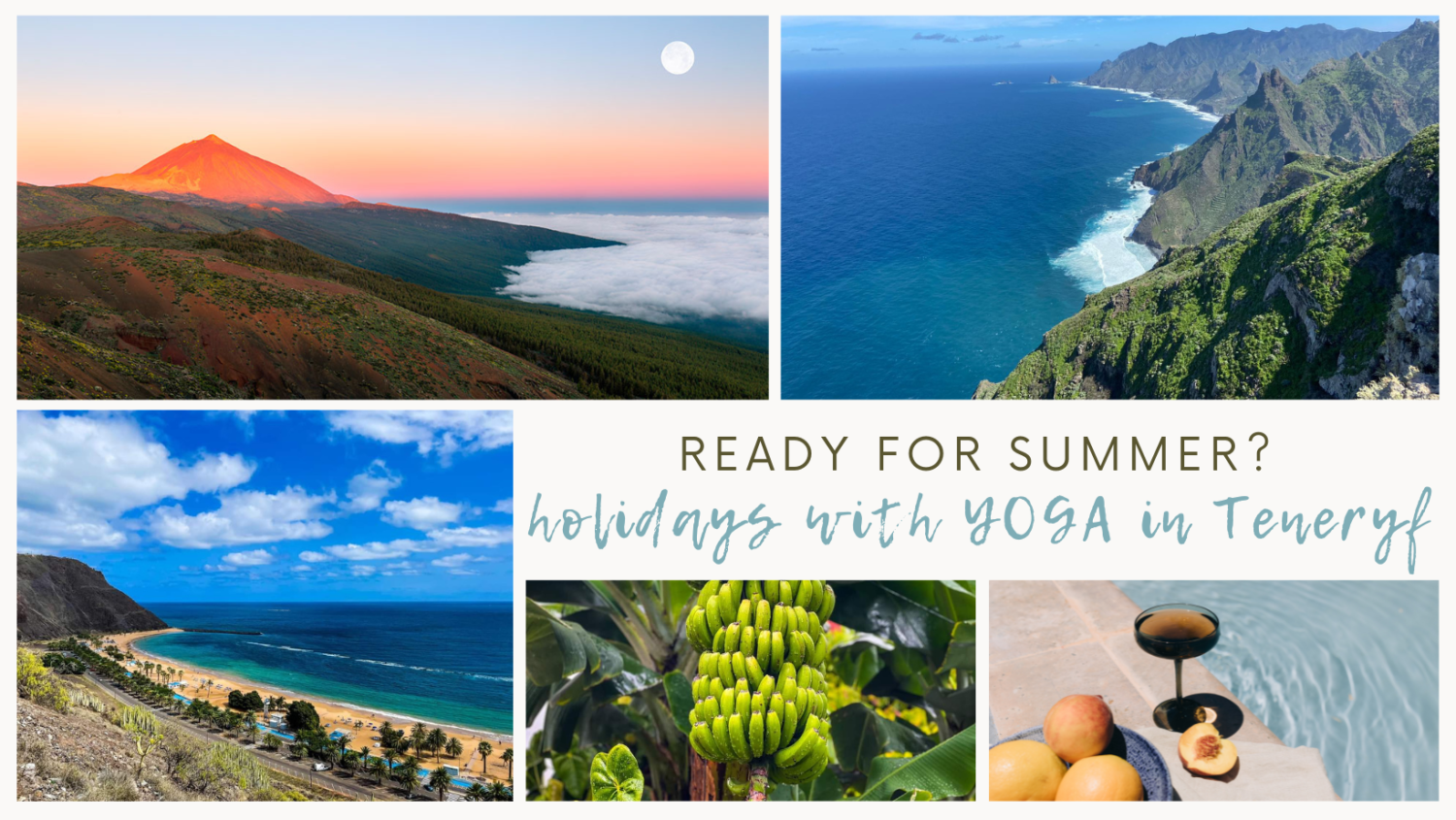 WHAT CAN YOU EXPECT?
1. Getting to know one of the most beautiful Canary Islands.
2. Pleasant, sunny weather. June in Tenerife is very warm thanks to the incoming hot air masses from Africa. Average 25°C during the day and 19°C at night. The water temperature is then 20°C.
3. Accommodation in an exclusive villa with a swimming pool and terrace for exclusive use. Single and double rooms with bathrooms.
4. The trip is light and pleasant, without haste in a homely atmosphere. Common breakfasts on the terrace in the form of a Swedish table, dinners in climatic restaurants and local guachinchaches. Not only Canarian cuisine, rich in delicacies from around the world, fresh fish, seafood and local wine.
5. During the trip, we offer daily yoga classes, afternoon relaxation classes with a qualified instructor Nadia Monika Gołębieska.
6. Sightseeing of the island, i.e. exploration of non-commercial places, climatic trekking, bathing in natural pools of the Atlantic Ocean – will be led by Joanna Joy Gradomska.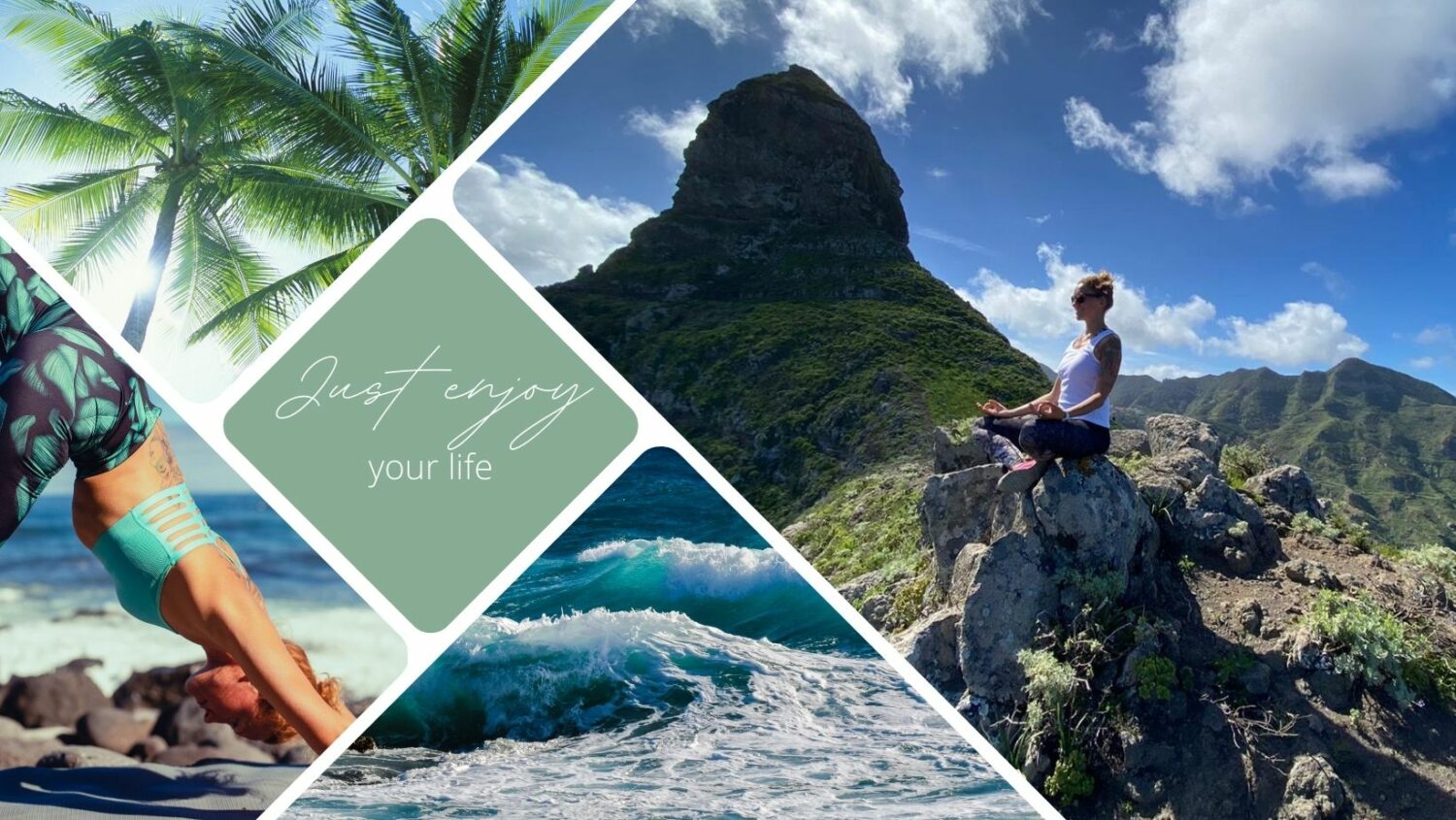 OUR SUGGESTIONS – PROGRAM
Puerto de la Cruz – sightseeing and accommodation in a climatic city in the north of the island. Puerto de la Cruz is a typical Canarian town with access to beaches, natural pools and parks. Not very touristy, but vibrant with attractions and nightlife. Beautiful view of the Teide volcano and the ocean.
Caldera of the Teide volcano – the highest mountain in Spain, which rises to a height of 3,718 meters. Something for lovers of hiking, where there are vast areas ideal for trekking around the majestic volcanic cone.
Anaga – a mountain massif with pointed edges and deep ravines squeezed together, covered with a carpet of laurel forest. Space and breathtaking views. The trip along the winding roads combined with a short but full of beautiful views trekking will end at the beautiful Roques de las Bodegas beach, where you can eat delicious fresh fish and seafood.
La Orotava and La Laguna – one of the oldest Canarian towns, charming and historic. June is a time of celebration and celebrations related to the feast of Corpus Christi. The celebration is also known as a flower festival as locals decorate the streets with carpets with "paintings" made of flower petals, bushes, plants and heather.
Icod de los Vinos – an atmospheric town and the largest and oldest Drago Milenario dragon tree. Butterfly House – a natural, living museum of butterflies. Historical Bodega – visiting and tasting wine and cheese in an intimate vineyard with a long tradition.
Garachico – a charming, typically Canarian town on the west side of the island with natural pools, formerly the main port of the island.
Bathing in the ocean and in natural pools . In Tenerife, you will discover a variety of beaches, from the bright golden sand of Playa de las Teresitas to almost black shores. The same applies to the structure of the terrain – soft sand or stony ground. However, the original beaches of Tenerife are dark and rocky, the golden coasts were created by importing sand from other countries. On the island there are natural pools formed from the solidified lava of the volcano. However, these are not beaches, but they are also recreational areas where we can take a bath in the water coming from the ocean. Tenerife surprises with the richness of choice, all that remains is to discover its charms!
ADDITIONALLY possible:
• Paragliding
• Surfing lessons
• Yacht cruise with swimming in the ocean in Masca bay and dolphin watching
• Loro Park – natural zoobotanical park
• Botanical Park, Orchid Garden, Butterfly House
• Mount Teide by funicular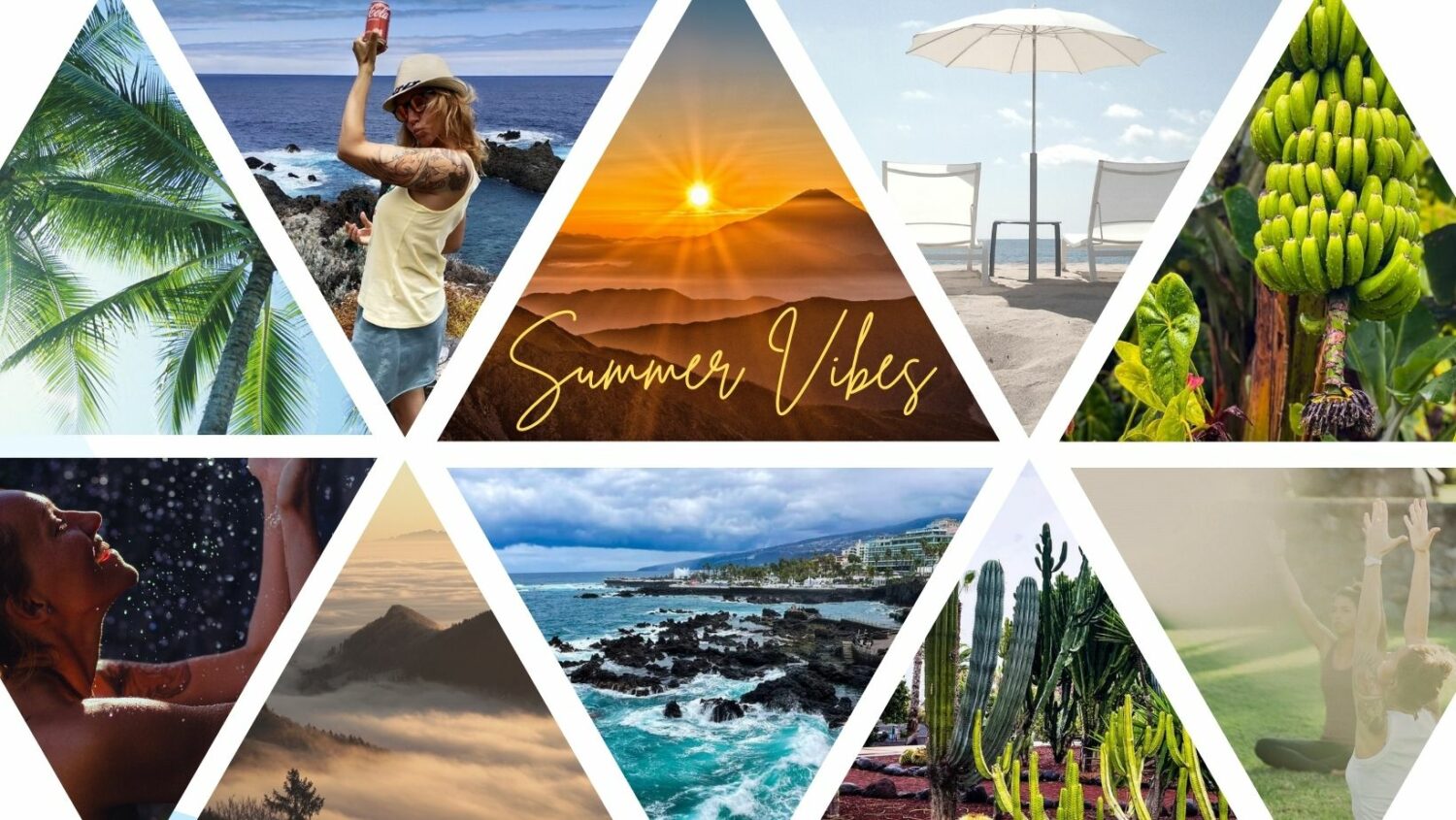 Open-minded individuals/families/couples who like active tailor-made trips in small groups, who feel good in situations where we follow the energy of the group and allow ourselves to be flexible depending on the needs and possibilities. Amateurs as well as advanced yogis are welcome, yoga classes will be conducted so that everyone can get as much as possible for themselves.
WHAT MAKES US STAND OUT?
We are a team that has been working together for years. Together, we organized several tailor-made trips abroad. We have been living in Tenerife for over 3 years. We feel at home here and we will be happy to show you your favorite corners of the island.
WHEN?     3-10.06.2023
CONDITIONS
Price 799 euro
THE PRICE INCLUDES:
• accommodation with breakfast in an exclusive villa with a swimming pool
• daily yoga and relaxation classes
• accommodation in single or double rooms with bathrooms
• breakfast + fruit snacks
• transfer from/to the airport (concerns the flight proposed by us, if you choose another connection transfer on your own)
• car/bus on site at the disposal of the group with all fees
• organization of trips and constant presence of the group's guardian
• surprises a'la Espania
PRICE DOES NOT INCLUDE
• air tickets
• half board (the price includes only breakfast and snacks, lunch / dinner on your own – we will cost local specialties in typical Canarian restaurants)
• insurance
• entrance tickets to paid attractions
YOGA CLASSES BY NADIA MONIKA GOŁEBIESKA
Vinyasa yoga classes for EVERYONE. I will lead them in such a way that everyone can get as much as possible for themselves. Both practicing and starting their adventure with YOGA.
I offer you relaxing and strengthening sessions designed by me, based mainly on classical yoga. During classes, I use a wide range of yoga techniques (asanas, breathing exercises and relaxation) in combination with traditional exercises. As a result, this integral nature of the practices will support the functioning of your body, calm the mind and harmonize the flow of life energy.
ACCESSORIES:
Possibility of using massages performed by NADIA MONIKA GOŁĘBIESKA,
the full offer can be found on the website in the MASSAGE OFFER tab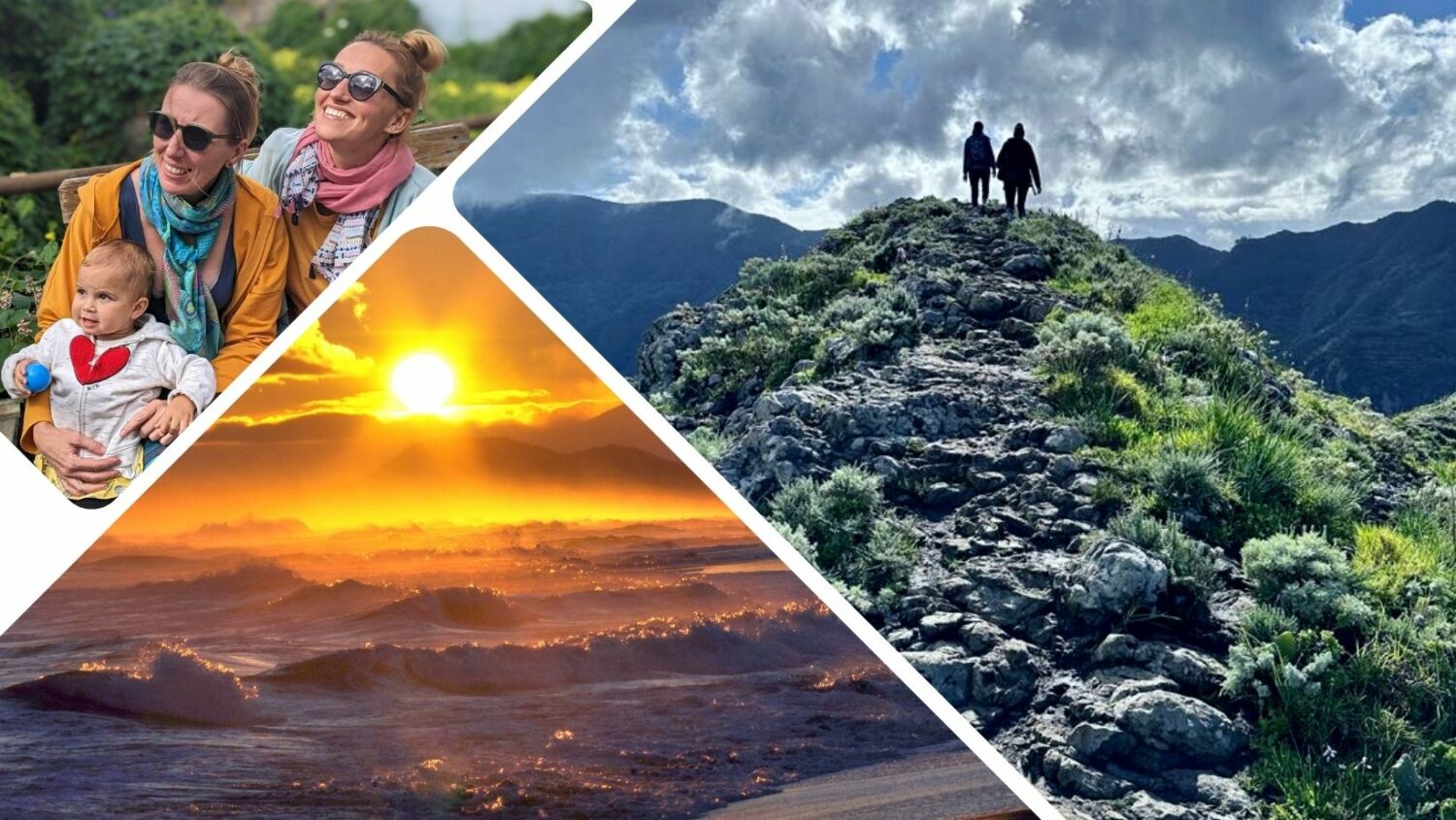 LOGISTICS AND ON-SITE CARE
Joanna Joy Gradomska
QUESTIONS AND INFORMATION:
Contact on Whatsapp:
• organizational matters
Joanna +48 502 601 656
joanna.gradomska@gmail.com
• yoga and organization
Nadia Monika +48 606 974 120
kontakt@swiadomosc-ciala.com
ATTENTION before you buy a plane ticket, fill out the application form, wait for our contact and confirmation of the reservation.
Traditionally: payment to the account – reserves the place
. Send me your e-mail and phone number for contact. It is very important!
Deposit title: HOLIDAYS WITH YOGA TENERIFE JUNE + NAME AND SURNAME
in the amount of: 100 euro
to the account:
Joanna Gradomska
Account number ES02 0182 5310 6102 0166 4318
the rest of the amount on the first day of stay